Where is Sabai Room Soapy Massage?
It is located on Second Road North Pattaya opposite Central Marina Shopping Center. This is one of the original soapy massage shops to be established in Pattaya.
I had my first introduction to Thai soapy massage at this establishment back in 1996. Now in 2017 it is still keeping up with its competitors although the interior has become a little shabby. But we are not going there to check out the decor are we. No its the employees we are interested in. Those lovely ladies behind the glass wall.
In the early days of this soapy massage parlor's life the pricing structure was very different to what it is now. Back then there was a flat rate of 400 to 500 baht paid to the parlor and the masseuse fee was left negotiable but with an understanding that the starting price might be around 500 baht.
Then depending upon how you approached the girl, an even better deal could be struck for around 800 to 900 baht all inclusive. Those days might be gone but the opportunities are still present.
Currently the rate at Sabai Room Massage is fixed at:
1,300 baht for 90 minutes.
1,800 for 2 hours
The Best Soapy Massage
So now you are searching the internet to find out which massage parlor has the best girls. Well you might save a lot of time and misinformation if you consider that, in a way, the girls are all equal.
Yes some are prettier than others but they are all Thai and are all trained to perform the same task. Each of the top five massage parlors has its fair share of average lookers, pretty ladies, and stunners.
At the Sabai Room the girls each have a white button with a two or three digit ID number attached to their attire.
I found the attendants at the Sabai Room, on most occasions, not as intrusive as one of the attendants I got to know at Honey 2. Sometimes they can be a bit pushy, asking you if you have made up your mind yet and consistently recommending a particular number.
The Soapy Massage Procedure
The procedure is similar at all the top level massage parlors.
Some steps in the procedure do get swapped around and on odd occasions one step might be ignored. Quite often that is the first step; being sensually and slowly disrobed by the masseuse.
Now I can go ahead and write up a review of my experience at this particular massage parlor. And I will write a little about it shortly.
But the procedure is usually very much the same in all the major soapy parlors. The layout is also similar in all of them. That will be a well appointed private split level room with a king size bed, a spa tub and a spacious tiled floor in the spa area ready to lay down a rubber mattress upon which you should enjoy your soapy body massage.
What Happens in a Soapy Massage Parlor?
Here it is as I have experienced it.
After ogling all the girls in the foyer you choose your girl.
The attendant calls her to link up with you.
Next is the "Golden Moment".
An opportunity for you to set the scene for a memorable experience. This is important.
Then you pay the fee before going to the room.
After paying the fee you go to the room with the girl.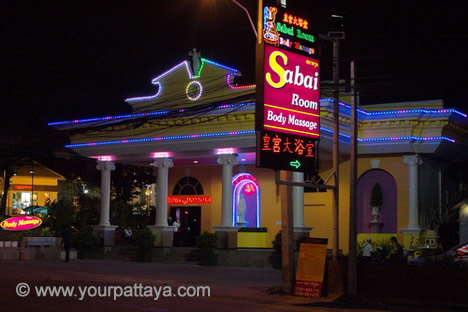 When you get to the room the spa tub might still be filling up or your girl will have to attend to it. The disrobing could begin at this point.
However on some occasions you might be asked if you would like to order an expensive drink from the bar.
A room maid will fetch the drink(s) and you might be expected to offer a tip. This will depend upon what happened during the golden moment step.
After disrobing you will head on over to the spa for your first plunge.
Sometimes the girl will jump in the tub with you or just give you a sponging while she kneels at the side of the tub.
You can tell her your preference.
Next its an out of the tub experience and on to the rubber mattress on the floor. She will usually soap it up first then ask you to lie on the rubber mattress. Then she should playfully pour and drip soap suds all over your naked body.
After that is the close body contact part where she entwines her naked body with yours slipping and sliding, massaging various parts of your anatomy with her arms, legs, knees, elbows, fingers, palms, butt and crotch.
Depending upon how you spent your "golden moment" this ecstasy could last a while.
Next part of the procedure is to jump back into the tub and wash off all the suds.
During the "old days" if we had negotiated for just a soapy massage without the serious stuff the girl would use this part of the procedure to upgrade your experience.
At this point knowing a few Thai love words and phrases would enhance the experience.
And here is what happened to me a few times back then.
While slipping and sliding she would several times slide me briefly inside her from many positions. Lastly with her knees either side of my waist she would hover over me with her lips just on my tip and whisper,
"Do you want it?"
And I would answer playfully, "Could you do all that and ask me again I didn't hear you."
It didn't take long to make a decision.
Back to the present.
After washing off all those soap suds its time to towel down and adjourn to the bed for a short Thai style massage before the grand finale.
What you do for the grand finale is entirely up to the two of you.
Summing up. If you pay attention around the time of the "Golden Moment" then you should be able to ensure that your soapy massage adventure is a memorable experience.
Accommodation Tip: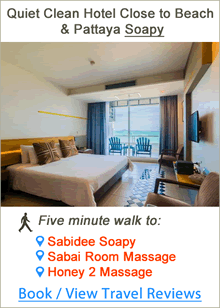 Want to stay in a nice hotel just 5 minutes walk from the top two Pattaya Soapy Massage Parlors?
Quiet with ocean views.
Walk 2 minutes to "Subway" sandwich bar and "Burger King".
The hotel is just 10 meters from the beach.
Book this hotel on line and save 35% on the "walk-in" rate.