There are hundreds of hotels in Pattaya. My friends and I love to stay close to the beach when in Pattaya. Wouldn't beach side hotels be a little expensive? Not all of them. Here is my recommendation for a nice Pattaya hotel close to the beach that won't burn a hole in your wallet. This hotel is located on Beach Road Pattaya.
I will define my meaning of "close to the beach". On Beach Road from the North Pattaya Road Junction all the way to the Walking Street junction any hotel located along that stretch of road will be on the inland roadside of the beach. That means that if you stay in any one of those hotels you will just have to walk across Beach Road plus the promenade and you will be on the sand.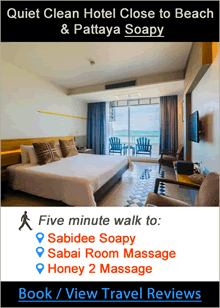 Unlike many medium size hotels in Pattaya this hotel has an elevator (lift). In Thailand the building code requires any hotel with more than 5 floors to have a lift. Many cheap Pattaya hotels and budget guest houses in Pattaya with 5 floors or less DO NOT have a lift. Some cheap hotels in Pattaya have six floors and still do not provide a lift.
This hotel is a good deal for a Pattaya hotel with ocean view. It will cost around 1,000 baht per night if you book online and more if you just walk in to book a room. Follow this link to check the room rate for this beachfront hotel and get up to 65% off the room rate (depends on the season). By following this link you will also be able to read hotel reviews by other travelers who have stayed at the hotel.
What you will find nearby.
Walk from the front door of the hotel turn left and walk twenty meters along Beach Road from the hotel you will find a Thai massage shop an Indian Restaurant then a bit further two girly bars.
Walk further along Beach Road in the same direction for about one minute and you will come to a "Mc Donalds" restaurant. That's about 180 meters from the hotel. Of course you will also pass several small Thai food restaurants along the way. Walk another 50 meters and you will reach the popular Soi Six collection of short time bars.
The Sabai Land soapy massage parlor is a five-minute walk from the front door of the hotel. If you book this Pattaya hotel on line you will save up to 65% on the walk in rate. It will also guarantee that you have a comfortable room for your first night in Pattaya. I send my beach bunny friends to this hotel whenever they visit Pattaya. The receptionist is cute and sexy. Check out some photos of the reception (lobby). This hotel is a guest friendly hotel meaning you may invite an extra person to stay over night without having to pay that annoying "joiner fee" that a lot of the hotels in Pattaya love to charge.